2022 Chevrolet Blazer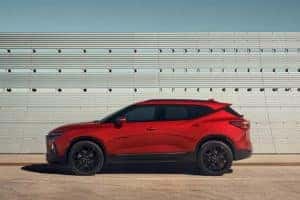 The weather is getting warmer, and so is the automotive sales market. That means that right now is the perfect time to get your new 2022 Chevrolet Blazer from Joe Bullard Chevrolet. Whether you are looking for better fuel economy, all of the new features that you have been hearing so much about, upgrading to the current model year, or simply finding a new vehicle that actually meets your needs, we can help. At Joe Bullard Chevrolet, our customers always come first. Whether it is your first time shopping with us or your one hundredth time, you get the same great service and care that you have come to expect from us. From the outright excellence of service from all of our staff to our wide selection to the ease of the buying process, you can never go wrong when you trust the Joe Bullard team for your next new vehicle.
Getting to Know the 2022 Chevrolet Blazer
The 2022 Chevrolet Blazer is here and ready to make a big splash both on road and off. Not only that, but it also comes with a wide array of great features, like driver and front passenger heated-cushion, heated-seatback heated front seats, two first row LCD monitors, Front and Rear Park Assist Parking assist, and many more exciting standard and available features, depending on the trim level that you choose. When it comes to your next vehicle, what more could you possibly want than something that is reliable, great looking, and comes with all of the features that you want? With so many trims and configurations to choose from, the 2022 Chevrolet Blazer certainly checks all of the boxes on your must-have list. Check it out today and give your friends at Joe Bullard Chevrolet a call, and get behind the wheel of one of your very own.
Joe Bullard and Your New 2022 Chevrolet Blazer
If you are tired of getting the runaround when it comes to your next new vehicle, we would love to help you experience a better way to shop for your next new, used, or certified pre-owned vehicle at Joe Bullard Chevrolet with a great selection of tools online, an industry leading team of onsite sales staff, and a financing department dedicated to helping you get the perfect 2022 Chevrolet Blazer. Whether you shop in person at our easy-to-find 2900 Government Boulevard location, from the comfort of your own home at JoeBullardChevrolet.com, or call our always friendly staff, there is never a bad way to shop at Joe Bullard Chevrolet.