Important Information
Hide Information
1. Must take new retail delivery of a 2021/2022/2023 Silverado 1500 or Silverado HD or a 2022 Colorado with eligible GM or Associated Accessories by 10/3/22. Accessory purchase must be equal to or more than $1,000 MSRP. Excludes tax and installation. Not available with some other offers.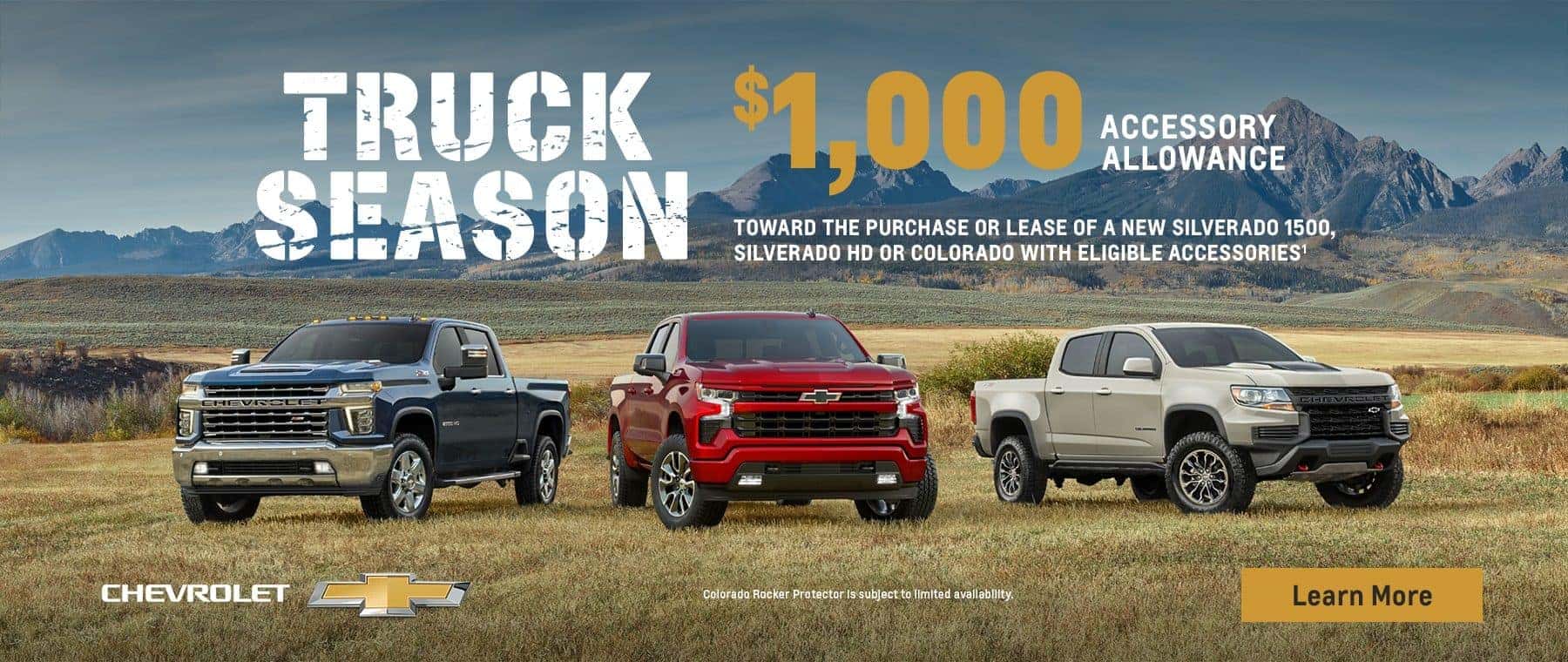 Important Information
Hide Information
1. Length of contract limited. Must finance with GM Financial. Some customers may not qualify. Not available with lease and some other offers. Take new retail delivery by 10/3/22. 2. Not available with special financing, lease and some other offers. Take new retail delivery by 10/3/22. 3. For J.D. Power 2022 U.S. award information, visit jdpower.com/awards
Find the Chevrolet That's Right for You
Our Reviews
Beginning a new year and a new semester in college my 2017 Chevrolet Cruze had a random engine malfunction. After going to three local mechanic shops, I was told to bring the car to a Chevrolet dealership to see if they could fix it. Joe Bullard Chevrolet immediately worked my Cruze in to be inspected. The day after I was told the car was no longer drive-able. I came into the dealership the following day and met Mr. Drew Favors, the GM of sales, whom shook my hand and let me know they will take care of me and offered a great price for the Cruze. I felt hope! I begin looking at the used inventory with Mr. Dan Byrd, whom was very polite. Then handed over to Mr. Zach Bell, whom test drove every car I had interest in. I was very thankful for Mr. Bell being patient with me through the two week process of looking through inventory of all the Joe Bullard dealerships. We finally found the perfect car! Working around my two jobs and class schedule, Mr. Bell worked me in to get my paperwork finalized. He even came into work an hour early to give me the keys to my new-to-me car. I had such a great experience at Joe Bullard Chevrolet under the care of Mr. Bell that I referred everyone looking for a car to him. My sister bought a brand new Chevrolet Trailblazer the following week with the assistance from Mr. Bell. We both love our cars and couldn't be happier with the experience!
I drove over 300 miles to buy a new silverado from Joe Bullard Chevrolet. The entire time was professional and respected my time. There were no "dealer games" and I know I got a great price. I highly recommend doing business with this dealership.
I gave you this rating, because it's TRUE. I received the best service ever. Courtney Mauldin and Stephen Samuel was kind, respectful and they truly cared about me as a person not just a customer.
Great place to buy a vehicle. Process was quick. Worked with me to get to the price I wanted. Friendly and professional group of people.
Shopped on cargurus.com for a new truck. Submitted an inquiry about a new Colorado. Sessions replied to my inquiry & I ended up buying within the week! Got a 2018 Colorado V6 with 2400 miles on it. (dealer loaner) Told Sessions, my salesman, the only thing disappointing about my experience was there were some scratches in the bed. Some all the way to the metal. Nothing was done about it. I touched them up myself with touch-up paint & covered them with a bed mat. That's the only "Ding" I have for an otherwise excellent experience. That's why I did 4 out of 5 on customer service. My other gripe has to do with GM in general, Not necessarily Mobile Chevrolet. I found that ALL the dealers I contacted while looking for a Colorado acted aas if a cash offer didn't matter. All the best pricing was tied to financing. That's crap. Cash should ALWAYS get the best deal.
The sales staff at Bay Chevrolet is professional and works hard to find the vehicle to suit your needs. We purchased 2 new 2017 Traverses and have been extremely pleased with the whole buying experience. In the past, I had considered competing Chevrolet dealerships in our local area, but I am definitely sold on Bay Chevrolet!!! My last Traverse (a 2009) lasted over 207,000 miles. It was routinely serviced at Bay Chevrolet. The service department is also awesome!
MY WIFE AND I NEED A NEW CAR, AFTER RIDING THRU SEVERAL DEALERSHIPS, OUR FINAL STOP WAS BAY CHEVROLET. IM THE KIND OF GUY THAT I GO OFF IMPULSE, OR IF I SEE SOMETHING THAT CATCHES MY ATTENTION I WILL STOP AND CHECK IT OUT, WELL WE STOPPED AND INSTANTLY FELL IN LOVE WITH A 2017 CHEVY SPARK, BRAND NEW, NEVER SOLD, ALL HAD ALL THE BELLS AND WHISTLES THAT YOU BUY ON MORE EXPENSIVE CARS, MY SALESMAN MARCUS WASHINGTON WAS AT TRUE SALES PROFESSIONAL, NO HASSLES, NO PRESSURE, HE KNEW PRODUCT AND ADDRESSED ALL MY CONCERNS ESPECIALLY FINANCING, WELL NOT ONLY DID WE GET A GREAT DEAL, BUT NO MONEY DOWN, A $2500.00 INSTANT REBATE, BUT BUMPER TO BUMPER WARRANTY COVERAGE FOR THE FULL TERM OF THE CONTRACT. STEVEN SAMUELS THE FINANCE OFFICER WAS VERY THOROUGH IN EXPLAINING THE PAPERWORK,FINANCING, AND ANY CONCERNS WE HAD. AND THE ONWER OF BAY CHEVROLET PERSONALLY THANKED US FOR OUR BUSINESS, WE TRULY HAD A 5 STAR BUYING/SHOPPING EXPERIENCE AT BAY CHEVROLET.
We purchased a 2017 Chevrolet Equinox yesterday from Bay Chevrolet. We have bought many cars during our 57 year marriage, but have never been treated so well. From the first phone call to them to picking up the car was a great experience. They always returned my calls and a deal was made on the phone. When we arrived to pick it up, the atmosphere was friendly as well as professional. The car was ready and they explained everything to us so well. We are very happy with our purchase and would recommend Bay Chevrolet to everyone, as we intend to do. Thank you, Mr. Moses, Alan, Robin and Stephen. The employees are great at their job.
I am a Chevy owner for life thanks to Bay Chevrolet. I live in VA and come to visit frequently. On my last visit my car was stolen and I need to buy a car to get home. The owner, salesman and staff worked with me to make it as painless as possible and even though I'm so far away they have worked with me every step of the way to get my tags... and every other detail I needed. I am the proud owner of a Chevy Equinox and LOVE IT!
I have used Bay Chevrolet for approximately ten years and my car is treated as if it were one of the workers vehicles. I have never been sold anything I did not need. My concerns and/or fears have always been addressed in a professional, courteous, manner. The service manager, service writer and the technicians on "my" team deserve recognition for the way they treat customers.
I recently had an accident with my 2016 Equinox. Having purchased my vehicle from Bay Chevrolet I took it there for the repairs. I could not be more pleased with the work performed. My vehicle looks exactly like it did when it was purchased. Also their customer service is outstanding! Everyone is so friendly and always willing to do more than expected. I have also taken my Equinox to Bay Chevrolet for the routine oil changes and their service department has always been fantastic. Their prices are also great. I would definitely recommend Bay Chevrolet!
I recently got a 2015 Chevy Impala which I love from Bay and our sales man Samuel and other staff were extremely Friendly and professional. I had a great car shopping experience at Bay. I will continue to do my business at Bay Chevrolet for years to come.
Just purchased my 5th vehicle from Bay Chevrolet and each time have had excellent customer service. I would not trust any other place to buy from. Each transaction has been very easy, no pressure and hassle free.
I came into Bay Chevrolet to shop for a full size pick up that will tow my boat. They have really nice, clean cars and trucks at Bay Chevrolet. Jay Carter was my salesman. He was a real pleasure to work with. Jay showed several options and he was extremely attentive to my needs. He didn't try to pressure me into making an impulsive purchase. However, he did offer me a couple choices that would allow me to purchase a truck that day. He called the next day to thank me for shopping at Bay Chevrolet and he has continued to stay in touch with me. He informs me anytime he gets another truck that he thinks I may be interrested in. I was highly impressed with his professionalism, he was extremely courtious and he was very knowledgeable on full size pick up trucks. If you are in the market for a preowned car or truck, I would recommend to anyone, go to Bay Chevret and go see Jay Carter.
I love Bay Chevrolet! I have purchased 4 vehicles at Bay & the staff has always been professional, friendly & trustworthy. I will always buy from Bay!
I sent my wife to get our 2014 Equinox serviced. She had a wonderful experience. Myra in the service department made her feel comfortable. The service was prompt and efficient. She and I will continue to rely on Bay Chevrolet to take care of our car.
Recently, I had a warning light activated on my SUV. I immediately drove to Bay Chevrolet and met with Jeff, the Service writer. Quickly, my problem was identified and Jeff explained the problem and associate costs. These cost were very reasonable and my car was quickly repaired. I have bought several cars from Bay Chevrolet and I have always felt that I received a fair sales price. However, the Service Department (Jeff and Mark) are outstanding. The cost of my repairs have been reasonable and my cars have been repaired quickly. As far as I am concerned, Bay Chevrolet is a dealership you can trust.
I had to bring my car in for a check engine light and Mark took excellent care of me. He kept me updated on the process of repairing my vehicle and explained everything to me. I knew my vehicle was in good hands with him! I highly recommend anyone taking their vehicle to him at Bay Chevrolet.
I bought my HHR from Bay 8 years ago and I've never had remorse about the deal When I came in for service on my brakes last week I was immediately greeted by the friendly smile of Myla one of Bay's service managers. I handed over my keys, got a ride to work and in 30 minutes was called with the diagnosis - I needed new rotors. Two hours later my car was ready. Although I didn't have it with me, Bay applied a coupon to my bill and saved me about $50! My HHR rides as smooth as silk and I couldn't be happier with the whole process. I won't go anywhere else for service
I would never consider buying a car anywhere else! My husband and I have bought over 10 vehicles from Bay over the past 10 years and have been treated like VIPs every single time without fail. The pricing is always right on the vehicle and they go over and beyond to find exactly what we are looking for. Look no further than Bay Chevrolet for your new purchase!!
Simply wanted to take this opportunity to say Thank You!! Bay Chevrolet's staff was simply wonderful to us. They explained everything thoroughly. Very impressed with Stephen's knowledge of the vehicles and their technology. We are completely satisfied. Praise God for You!!
We received good assistance and advise while dealing with an air conditioner compressor problem. I would recommend this dealer to friends and family for new car purchases and service.
I've dealt with Bay for a long time.They have always treated me with respect in service are on a new vehicle.They explain everything very well and give me different opinions on how to fix my problems.I would recommend Bay to everybody. Thank You R.T.Barbour
First off I will say that I am the kind of guy that paints his undercarriage on a yearly basis to keep things looking new. When I add aftermarket parts to my vehicle the ONLY person I let oversee these projects is Robyn in the body shop. I think she understands my love for vehicles and makes sure that every little detail is perfect before calling me to pick up. So needless to say I am a repeat customer due to her customer skills and appreciation for nice vehicles.
Best service i have ever had, Howard was wonderful to work with I would reccommend him to all my family and friends best dealership in town!
Chevrolet and Used Car Dealership in Mobile, AL
If you are looking for a new Chevrolet or quality used car in Mobile, AL then look no further than Joe Bullard Chevrolet. In addition to an unmatched selection of new Chevrolet for sale our team works relentlessly to provide a wide variety of used cars for sale from a variety of different automakers. But our commitment to excellence doesn't end there, because what truly sets us apart is our commitment to a positive sales experience for each customer that we serve. Come and see what we have to offer at Joe Bullard Chevrolet in Mobile, AL.
Used Car Dealership Mobile, AL
At Joe Bullard Chevrolet, we have a great selection of used cars for sale near you. Our Mobile used car dealership features Certified Pre-Owned Chevrolet, as well as many of your favorite makes and models. We do our best to provide you with a wide selection of vehicles to choose from. Each vehicle goes through a rigorous inspection process, including tires, brakes, fluids, and the major components. We want you to be able to rely on your vehicle, and we do our best to help you stay on the road.
Chevrolet Lease and Financing Center
When it comes to paying for a vehicle we all have different priorities from lowest monthly payment, lowest upfront cost, or lowest cost over the term of the loan. Our finance team has the experience to help you navigate the financing process and to help craft the deal that will work best for you.
Joe Bullard Chevrolet Service Center
If your vehicle is in need of regular maintenance or major repairs you can be sure that the factory trained and certified service team at our service center can help. With years of experience specializing in Chevrolet service our team knows these vehicles backward and forward. Their experience combined with our modern diagnostic and repair equipment means that they have everything they need to accurately assess the issue and address it to your satisfaction. You can schedule service online or contact us for more information.
Ask A Question